What is SENSA | Flexible, easy to use & reliable | In practice | Your benefits | Infrastructure features | Getting started & contact
What is SENSA
The Secure sENSitive data processing plAtform (SENSA) offers biomedical researchers a full service for the processing of sensitive data, from a tailored compute and storage environment to expertise in data protection and bioinformatics support. SENSA being connected to the national network of secure IT infrastructures (BioMedIT), it also acts as a gateway to the Swiss Personalized Health Network (SPHN.ch) to enable nationwide biomedical projects. SENSA is provided by the University of Lausanne and the SIB Swiss Institute of Bioinformatics, and builds on over 15 years of experience in operating high performance computing infrastructure for biomedical researchers.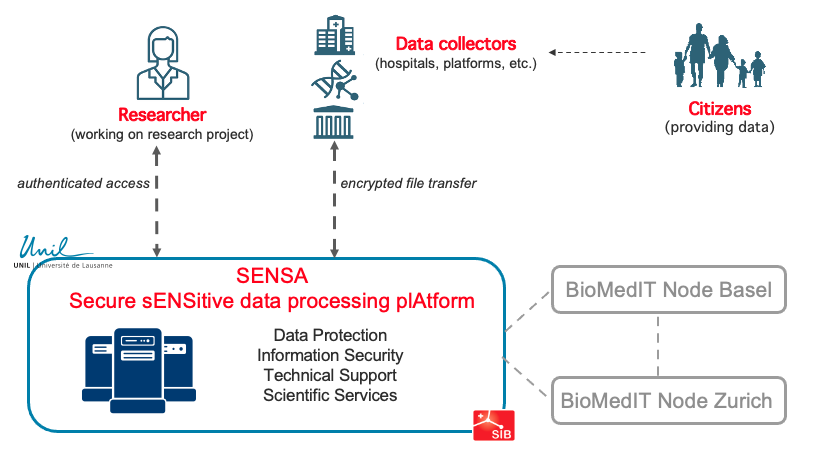 Flexible, easy to use & reliable
Flexible: A compute and storage environment is tailored to your project. In particular, the number of compute nodes, the storage space, the software tools and services can be adjusted upon request. Research projects can further benefit from our expertise in data protection and IT security as well as data science, bioinformatics and research support (read below).
Easy to use: Once a secure project space has been created for you on the platform, you can access it via a web browser, and log into it with a SWITCH edu-ID account and 2-factor authentication. Your project space can contain various software services such as a relational database management system. Computation is done on project-specific compute nodes, and data are stored in an encrypted storage system (read 'Infrastructure features').
Reliable: Following the principle of "data protection by design", SENSA's dedicated technical architecture enforces the latest standards in security, data protection and service virtualization. For instance, all of the scientific projects running on the platform are completely isolated from each other in order to ensure that only authorized personnel has access to sensitive data (read 'Infrastructure features').
In practice
When and how to use SENSA? Here are some use cases to guide you.
Use SENSA to ... analyse sensitive data:
Sarah is a researcher at a university and has just obtained ethical approval for a research project she will be leading. The project aims to improve treatment of cancer and involves analysing medical records and patient genomes. Patient data are available in the local university hospital.
Sarah requests a project space in SENSA.
After some discussion with our experts, she specifies that she needs 10 compute cores, 100 GB of storage as well as bioinformatics data analysis software tools such as tophat and bowtie.
Additionally, she provides the contact information of her project members requiring user accounts on the platform. Her project team is mainly based in Switzerland, with collaborators in Sweden.
Next, Sarah requests the required data from the hospital who will transfer it to SENSA. Our legal experts help her with the preparation and signature of a Data Transfer and Use Agreement.
One of Sarah's project members receives a short training to receive the data in an encrypted way from the hospital. Other project members can then login into the project space and use state-of-the-art bioinformatics software tools to analyze the medical records and genomes made available to the project.
Additionally, Sarah requests support on how to manage and organize scientific project results during the data analysis. Our experts have data management expertise and propose tools such as ViKM which they can install and operate in Sarah's project space
Use SENSA to ... host a web application:
Peter's research group has developed a web application which uses patient information on a highly contagious disease.
This software application must be accessible over web browsers to a restricted user community based in three different universities.
Data protection laws require that the data are well protected. Therefore, SENSA operates the web application and stores the data in an encrypted environment.
Peter's software developers will receive privileged access to update the web application on SENSA and upload new data via a Secure File Transfer Service.
Users of the web application will receive access codes to access the application from within their university networks. In this way, Peter is sure that only explicitly identified and authorized people can use the web application.
Legal documents such as a Data Processing agreement are signed by Peter and SIB before any sensitive personal data are transferred to SENSA.
Use SENSA to ... run a national platform containing citizen-provided health data:
Researchers Sophie and Eric plan to build a national platform which allows scientists to access and use citizen-provided data, as part of an SPHN project.
The platform should accept data from each of Switzerland's five university hospitals and should be accessible to researchers all over Switzerland – a typical case for data interoperability between hospitals and different regional BioMedIT Nodes (Basel, Romandie and Zurich).
As SENSA is part of the BioMedIT network, it provides the necessary support to Sophie and Eric to design and implement the project to run on the national BioMedIT infrastructure.
Your benefits
SENSA draws on the coordinated expertise of several UNIL and SIB groups in the biomedical and information security domains to offer you much more than a secure computing environment. When using SENSA, you gain access to a dedicated set of expertise in:
IT security and data protection following Swiss as well as international standards and legislation
Training

In data privacy and IT security for project leaders and platform users;
In infrastructure usage on the practical aspects of using the platform for research

Data Management Planning (DMP) and storage expertise (incl. FAIR principles);
Computational biology and data science for your analyses, from biomarker identification to data integration (read more)
Legal advice on questions concerning data protection, data privacy, GDPR and contract management, in order to ensure your data are stored, accessed and analysed in a lawful way.
Infrastructure features
SENSA is created following the principle of "data protection by design", and implemented through a dedicated technical architecture that enforces the latest standards in security, data protection and service virtualization. The platform offers the following features:
Encrypted transfer and storage

Encrypted data transfer into and out of the platform via a Secure File Transfer Service
Superior data protection via an encrypted storage system (WekaIO)
Unless agreed otherwise, the infrastructure providers have no access to the data

Access control

Access to the platform restricted to trusted network locations such as white-listed IP addresses or ranges (incl. VPN)
Federated identity management via SWITCH edu-ID, including 2-factor authentication
Isolation of distinct project spaces via virtualization based on OpenStack technology, compliant with the legal requirements for sensitive personal data
Users interact with the platform through remote desktop in web browser (via Apache Guacamole web application) or through Secure Shell (SSH)-based terminal

Hardware resources

10 CPU nodes with 40 cores each (400 CPU cores in total) - 64 to 512 GB RAM
2 GPU nodes with 20 cores each (graphics cards for optimised computation) - 64 GB RAM
200 TB of encrypted storage
The hardware listed above is dynamically allocated to projects via the virtualization system OpenStack. If a scientific project needs more physical resources than currently available, the compute and storage capacity can be extended on demand.
Training and documents
A gateway to a national network of secure health data
SENSA is part of a national network of secure IT infrastructures called BioMedIT. BioMedIT is currently composed of three Nodes that are hosted in Basel, Zurich and Romandie (Lausanne). The network establishes the infrastructure backbone for the Swiss Personalized Health Network (SPHN.ch) and allows for data interoperability and exchange between Swiss healthcare providers, citizens and researchers.
Our expertise and infrastructure services are available to biomedical researchers in Switzerland and beyond.
Contact us for more information, a project space request or pricing information, or to tell us about your needs: